Steve Trotter has an eclectic backstory: Staff writer at sensational supermarket tabloids Midnight and Midnight Globe. Stevedore. Soldier. Travel feature freelancer (Miami Herald, Globe & Mail, Toronto Star). Copywriter. Record label publicist promoting Van Morrison, Velvet Underground, Deep Purple, KISS, Dire Straits et al. Amazon bestselling author of four thriller novels. Songwriter. Rock singer.
As a rocker, Trotter wrote & recorded the Trotter EP featuring axemen Frank Marino, Steve Segal and Kelly Watling, and Nanette Workman singing back vocals on " The Thigh's The Limit" and "Die On The Dotted Line." 
The front man in Kid, Sgt Rock, Trotter and Foreign Affairs, Trotter gigged in a variety of colorful dives and rock landmarks, some of which became victims of progress or burned to the ground. Fortunately, the memories survived. He and his bandmates also special guested in concerts with Steppenwolf, Frank Marino & Mahogany Rush, Midnight Oil, and Walter Rossi. A Grand-Prize winner in the CHOM-FM L'Esprit '85 Songwriting Competition for his lyrics to "I'd Rather Be Dancing," Trotter penned lyrics for tracks on several album projects, including the title tracks for 6AM's "God's A Girl" and Walter Rossi's "One Foot In Hell."
These days, Trotter devotes his creative energy to writing songs, some country, some rock, each with a story to tell. In the fall of 2017 Trotter had demos of some new tracks cut at Beaird Music Group in Nashville, TN. His goal? Pitch them to the right ears.
Discography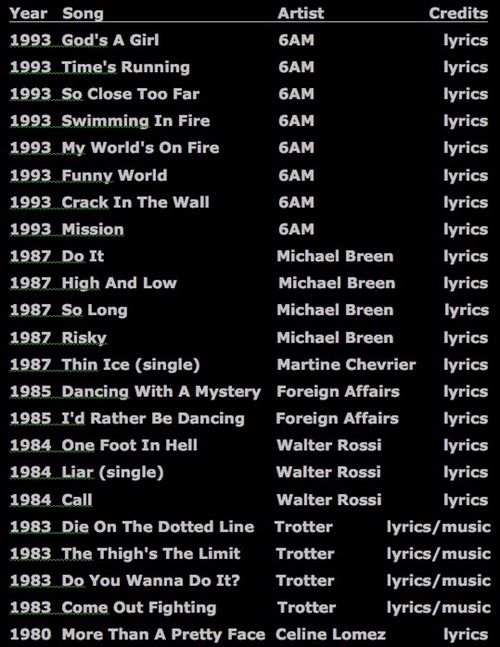 contact: info(at)stevetrotter(dot)com